Party Bus Rentals San Diego 
Visiting San Diego is a fulfilling experience in itself. But celebrating an event in the city adds more spark to the life-lasting memories. More fun comes when someone plans to celebrate it while moving across the city. It is like doing a party and enjoying the moments without having any gaps. Party bus rentals San Diego offer everything you are looking for in this regard.
Picking up the Best Party Bus Rental Services
If you choose to travel with us, we will serve you with the best only. Our team has worked in this field for more than years. During this time, we have understood the expectations of our clients. The company has upgraded itself with time and now has the best services in the city. San Diego Party bus rentals  has whatever you are looking for. The features of this party bus service are mind-blowing. Some of the main features that can help you to customize the party vibe for you are discussed below: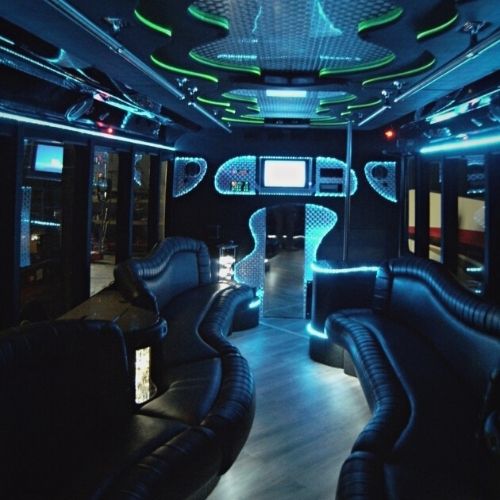 San Diego Party Bus Rentals Fleet Options
The fleet associated with our company is versatile. Our fleet has SUVs, Sedans, Limos, and Sprinter vans. Each one of these has its properties. Sedans associated with Transportation Service San Diego can accommodate three passengers. SUVs can carry five individuals. Limo can handle ten passengers for one ride, whereas a Sprinter van can take fourteen individuals. Our valuable customers can pick up a vehicle according to the number of people they want to involve in the party.
Rides with Safety and Security
Our professional team does not compromise on the safety arrangements for our worthy customers. Each vehicle present in our fleet is up-to-date. No technical fault is present in any vehicle sent for a ride. The cars go through a cleaning service after every ride. Additionally, the vehicles are sanitized regularly to ensure the maximum level of safety for our clients.
The chauffeur team associated with party bus San Diego is highly trained and finely professional. Our chauffeurs are well aware of the map of the city. They will happily serve you with alternative and safe routes in case of any emergency or unpleasant circumstances in the city.
Rides with No Stress
Our party bus rentals San Diego is a team of responsible individuals. Each team member understands and takes care of their responsibility in the group. We do not put any burden on the client during the ride. A customer has completely free to enjoy the passage only. The booked vehicle will arrive at the pickup time in time. Punctuality and discipline are the prime features of our company. If you plan to book the service from the airport, then the luggage is our responsibility. Our chauffeurs will take your luggage into the vehicle. You will never be late for any surprise arrangements at any location within the city while riding with us.
Ride with Extra Charm
Our fleet is super luxurious and charming. The seats are comfortable and ideal for enjoying the Best party bus in San Diego. Traveling through these vehicles is super easy on your mind and having a party in these vehicles is an unmatchable experience. The look of these vehicles is going to imprint a rich impression on others. It will make you feel as having the best only.
Our chauffeurs are well-dressed and professional. They speak simple English to make it easy for the riders. They will make minor changes, such as changing the track list or staying at a point in between the ride if the stop is added for the location.
All necessary elements, for example, charging ports to charge electronic devices and water bottles, are part of every vehicle in the SD VIP Transportation service fleet. If you needs party bus for Temecula you can book our Party Bus Temecula service for best traveling experiece.
Customized Rides
Every client is gathering memories while riding with us. We understand that any ride booked for a San Diego party bus rentals should be unique. A client can suggest the themes as per requirements. You can arrange a birthday party, anniversary party, bachelor party, graduation party, or surprise party via this party bus service for San Diego. One can choose the ride's lighting setup, seating, decoration, and sound systems. You can decide to have a bar on the party rental bus in San Diego. Furthermore, you can provide a list of music tracks you would like to listen to during the ride with the party bus to San Diego. The drinks in the bar of the party bus rentals San Diego will also get arranged as per the requirements of our customers.